Resources
The following are websites and books that Enlightened Philanthropy finds useful in its work. We hope you find them helpful too.
Websites
21/64
21/64 is "a nonprofit consulting practice that specializes in next generation and multigenerational strategic philanthropy." Numerous resources are available on their website for families, next gen donors, and advisors. Deborah is pleased to be a 21/64-certified consultant.
Association of Fundraising Professionals
The Association of Fundraising Professionals (AFP) is an international organization "working to advance philanthropy through advocacy, research, education and certification programs. The association fosters development and growth of fundraising professionals and promotes high ethical standards in the fundraising profession." As a member of AFP, Deborah adheres to the Code of Ethics and promotes the Donor Bill of Rights.
Bolder Giving
Bolder Giving's mission is "to inspire and support people to give at their full lifetime potential." They accomplish this by promoting "three ways to give boldly: give more, risk more, inspire more."
Charity Navigator
"Charity Navigator works to guide intelligent giving. We help charitable givers make intelligent giving decisions by providing information on over five thousand charities and by evaluating the financial health of each of these charities. We ensure our evaluations are widely used by making them easy to understand and available to the public free of charge. By guiding intelligent giving, we aim to advance a more efficient and responsive philanthropic marketplace, in which givers and the charities they support work in tandem to overcome our nation's most persistent challenges."
DoSomething.org
The "nation's largest nonprofit for young people and social change," DoSomething.org focuses on the causes youth ages 13-25 are passionate about. They can engage in national campaigns that are making a difference, but don't require money, a car, or an adult to participate. Have a teenager that wants to make an impact in the world? This is a great place to start!
Exponent Philanthropy
Exponent Philanthropy, formerly the Association of Small Foundations, is a membership organization serving a diverse group of donors. They "provide resources and valuable connections to help funders make the most of the minutes they have and the dollars they give." They also offer a Next Gen Fellows Program.
Focusing Philanthropy
Their mission is to "identify, evaluate and present…non-profit organizations as candidates for personal philanthropy….all from the perspective of active donors who wish to be confident that funds or time contributed are achieving the greatest possible impact in addressing identified problems." Emphasis is on organizations that increase income for individuals, families or communities; build community infrastructure; or help individuals achieve self-sufficiency.
Grant Professionals Association
"The Grant Professionals Association (formerly American Association of Grant Professionals-AAGP), a nonprofit membership association, builds and supports an international community of grant professionals committed to serving the greater public good by practicing the highest ethical and professional standards."
GuideStar
GuideStar's mission is "to revolutionize philanthropy and nonprofit practice by providing information that advances transparency, enables users to make better decisions, and encourages charitable giving."
The International Association of Advisors in Philanthropy
"AiP is a network of diverse professional advisors who are devoted to mastering and promoting the principles and practices of client-centered planning." In addition, they promote "The Chartered Advisor in Philanthropy (CAP™), which provides you with the knowledge and tools you need to help clients reach their philanthropic goals, while also meeting their non-charitable estate planning and wealth management needs."
National Center for Family Philanthropy
"The National Center for Family Philanthropy is the only national nonprofit dedicated exclusively to families who give and those that work with them. The National Center provides the research, expertise, and learning opportunities necessary to inspire our national network of giving families every step of the way on their philanthropic journey." They even have a Pinterest page with books for children and families about philanthropy.
Next Gen Donors
This insightful new research from 21/64 and the Johnson Center on Family Philanthropy reveals how Gen Xers and Millenials think about philanthropy. Their findings also identify "what and how they want to learn about it, and how and with whom they want to be engaged in philanthropy."
Resource Generation
Resource Generation "organizes young people with financial wealth to leverage resources and privilege for social change." This nationwide organization engages in community building, organizing, and education with its members who are ages 18-35. There are local chapters in a handful of metropolitan areas around the U.S.
Youth Philanthropy Connect
Looking for a way for your youth to connect with their peers and fellow grantmakers? "YPC provides educational programming at an annual conference for youth boards and their adult advisors, and advances philanthropy by offering professional development opportunities for youth who will be tomorrow's trustees."
Books
Giving 2.0: Transform Your Giving and Our World
Laura Arrillaga-Andreessen
Laura Arrillaga-Andreessen has been teaching Strategic Philanthropy at Stanford University for the past decade and has decided to turn her life experience and teaching experience into a practical guide for philanthropists looking to move from Giving 1.0 to Giving 2.0. This means thinking about one's giving proactively rather than reactively, strategically rather than sympathetically, and collaboratively rather than in isolation. Her passion for philanthropy comes through the stories she shares, both her own and those of other philanthropists. www.giving2.com
"On any day of the week you could have a conversation with someone or observe something that could change your giving path forever. Each of these moments represents an opportunity, a responsibility, and a privilege." – Laura Arrillaga-Andreesen
Inspired Philanthropy: Your Step-by-step Guide to Creating a Giving Plan and Leaving a Legacy
Tracy Gary with Nancy Adess
Tracy Gary has been a philanthropic advisor for nearly 40 years and is dedicated to philanthropy and social justice causes. Her guide provides incredible tools and resources for creating your own giving plan. I use several of them in my own practice. Her website provides additional tools, including a wonderful curriculum for Youth Giving Circles. Her work is an inspiration to those who follow in her footsteps. www.inspiredlegacies.com
"Giving can provide purpose. Giving can connect us to our values and our community. In giving, we define who we are. We are people who honor our traditions. We are people making an impact." – Tracy Gary
Joline Godfrey
Talking about money remains one of the most difficult subjects parents can raise with their children. Thank goodness for Joline Godfrey's revised edition of Raising Financially Fit Kids! This completely updated version includes financial education guidance for 5-18 year olds and now twenty-somethings as well. She presents a clearly laid-out framework of Ten Basic Money Skills, with numerous suggestions at each developmental stage, to engage your kids in a financial education that will prepare them to be "self-confident kids who have the tools to realize their dreams." If you're struggling with how to talk with your kids about money and finances, this is the book for you. And yet, the book is about so much more than money. There's even a short chapter on raising young philanthropists. Start your conversation today! www.independentmeans.com/imi/new-raising-financially-fit-kids/
"Young people who learn to manage both their human and financial capital are more at peace–and effective–than those kids who have learned to manage only one or the other." – Joline Godfrey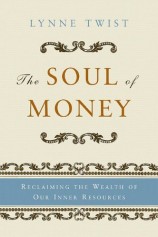 The Soul of Money: Transforming Your Relationship With Money and Life
Lynne Twist
Lynne Twist's insightful book helps you re-examine your relationship with money, by revealing three myths that we all have about money. She challenges you to think differently about money from the moment we earn it to the moment we spend it or give it away. Her experiences are woven throughout this transformational exploration of your connection with money. www.soulofmoney.org/
"Philanthropy at any level enables people to get back in touch with that relationship with money. In philanthropic interactions, we can return to the soul of money: money as a carrier of our intentions, money as energy, and money as a currency for love, commitment, and service; money as an opportunity to nourish those things we care most about." – Lynne Twist