It happened again. I told someone what I do and he responded, "I wish I could be a philanthropist." I told him he could be! And you can be too!
Inspiring Young Philanthropists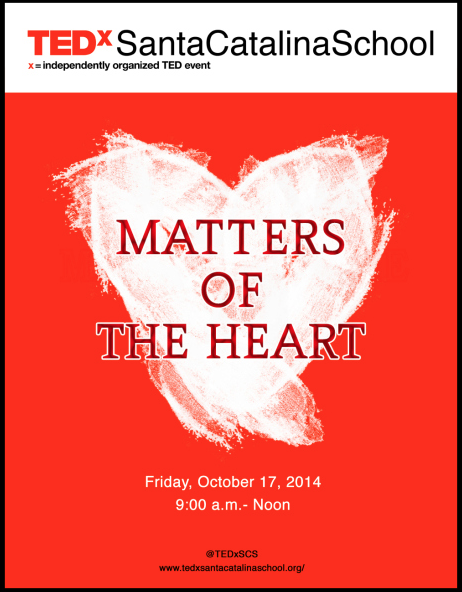 On October 17, 2014, 75 young women along with 25 faculty, staff, and community members discovered that they can be philanthropists. The theme of TEDxSantaCatalinaSchool, Matters of the Heart, was the perfect stage to talk about philanthropy, values, and sea turtles (one of my other favorite topics).
I am truly grateful to the student organizers for their hard work and the opportunity to be a part of this wonderful event. Afterwards, the TEDx advisor and Assistant Head of the Upper School said she liked this talk so much that she'll use it as part of their curriculum. Talk about a legacy!
The young woman who introduced me, Jennifer Hernandez, Class of 2015, was even inspired to write about philanthropy in one of her college essays. I'm pleased to share some of what she wrote…
"There will always be a place in the world in need of a helping hand, and that is why I have dedicated myself to philanthropy.


While doing service, I have learned more about the different needs and injustices people live with….Every time I volunteer, I keep going back because I know I am making the world a better place for others. And not only do the recipients benefit, but the giver does too. Philanthropy is my source for new discoveries and epiphanies about different societies. It is also the common ground that allows me to create friendships with people that are completely different from me. As a result, I have grown a deep passion for giving."
Watch the TEDx Talk

Please take time to watch my TEDxSantaCatalinaSchool talk and learn how YOU can be a philanthropist!
Don't waste another minute thinking you CAN'T be a philanthropist. YOU CAN. Start today, wherever you are, with whatever you can–time, talent, treasure, or ties. Watch and share with those you care about. Together, we can make a difference in our world.